Check out my speculative production of Gian Carlo Menotti's "The Consul" developed in conjunction with designer Liliana Duque PiŮeiro.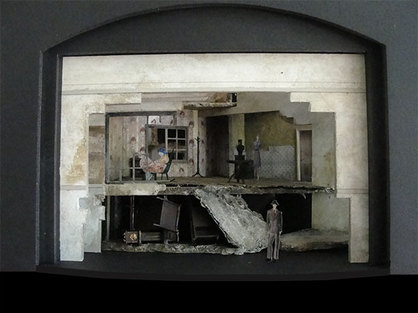 (click here)
David Carl Toulson relishes the process of taking a show from the score to the stage, leaving his mark on the grandest of art forms. He is consistently praised for his ability to transform opera characters into living breathing people and for his clarity in storytelling. It is these attributes that allow him to create fresh and exciting productions that capture audiencesí imaginations.

Upcoming projects in 2015 include directing Approaching Ali for North Carolina Opera, an evening of opera scenes at Webster University in St. Louis, and Speed Dating Tonight!, a new opera by Michael Ching, for Tri-Cities Opera. Additionally, after a great success with Orfeo ed Euridice at Temple University last spring, Mr. Toulson has been invited back to direct Mozartís La finta giardiniera. Other recent projects have included directing Opera-on-the-Go for Opera Theater of Saint Louis, a reduced version of Hansel and Gretel for Binghamton University, The Ballad of Baby Doe for Winter Opera of Saint Louis, Romeo et Juliette for The Catholic University of America in Washington, DC, and Tosca for Asheville Lyric Opera.

Mr. Toulsonís resounding success directing his first Don Giovanni for Piedmont Opera, was notable for its faithfulness to Mozartís blend of both comedy and melodrama. And in addition to directing an inspired La bohŤme for Asheville Lyric Opera, Mr. Toulson performed the role of 'set designer', creating a simple but beautiful production which highlighted the lives of the bohemians as they struggled through life and love.

Other notable moments in his career include being the Associate Director on the sumptuous Marta Domingo production of La traviata at Los Angeles Opera, and, as a current member of the directing staff at Washington National Opera and as an assistant director at the Tanglewood Music Festival, has had the honor to work alongside opera greats such as Plŗcido Domingo and James Levine.

Equally at home in both comedy and tragedy, other selected directing credits include: Madama Butterfly and Regina for The Catholic University of America; Líelisir díamore, Il barbiere di Siviglia, Rigoletto, and Carmen for Asheville Lyric Opera; Don Pasquale for Toledo Opera; Face on the Barroom Floor for Central City Opera; The (mini) Magic Flute, a double bill of Haydnís La Canterina and Donizettiís Le convenienze teatrali and Don Pasquale for Opera Theatre of Northern Virginia; The Secret Marriage for Aurora Opera Theater; Dr. Miracle for the University of South Carolina; and Le nozze di Figaro in Cortona, Italy.

Mr. Toulson has also worked extremely successfully with young singers and has received critical acclaim for his direction of outreach programs in companies such as Tulsa Opera, Connecticut Opera, Central City Opera, Virginia Opera and FBN Productions.